My assemblage kinetic sculptures and jewelry

blend art, nature, spirit and story.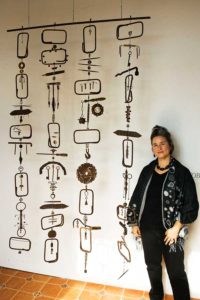 I'm drawn to materials that come from the earth and to forms transformed through encounters with the elements. I'm attracted to circles. They invite me in, are windows to the beyond; simultaneously open and whole.
Connecting one object to the next, both physically and visually, energy and awareness journey between root and crown. The space between reminds us to breathe. Twirling and dancing with the air around us, energy shifts, spirit awakens, transformation occurs.

Presented in new contexts, each object's intrinsic beauty is revealed. Discarded and precious materials – vintage tools, machine parts, branches, seeds, mineral stones and beads from around the world – are combined to create one-of-a-kind artworks. No two Elayna Toby pieces are ever the same.
I use only "cold connections" in creating my assemblage sculptures and jewelry. No welding or soldering for me. Instead, I use wrapping and knotting techniques, along with swivels and metal links, to connect one object to another.