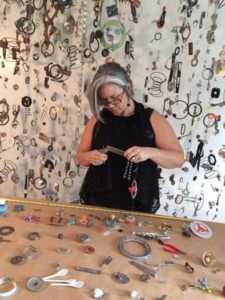 After receiving her B.A. in Cultural Anthropology, Elayna Toby moved from Chicago to San Francisco where she began her craft as a jeweler, working with beads from around the world. While there her love affair with horticulture was ignited.
As a Longwood Fellow, Elayna Toby received her M.S. in Public Horticulture Administration and Museum Management. For fifteen years, she worked in botanical gardens in Chicago, Philadelphia, Washington, D.C., and Naples, FL creating landscapes, exhibitions and community programs highlighting the multicultural uses of plants around the world.
In the mid 1990's, inspired by Mother Nature's exquisite beauty, Elayna Toby collected fallen seeds and branches which she combined with beads to create her earliest kinetic works.
In 2003 Elayna Toby began incorporating found objects into her sculptures. Over time her work grew in scale and complexity.
Invited by Habla: The Center for Language and Culture, in 2009, she led a "natural mobiles" workshop at Park Aak, an ecological park in Mexico.
In 2010 she was commissioned to create her first site-specific installation for the Ann Norton Sculpture Gardens.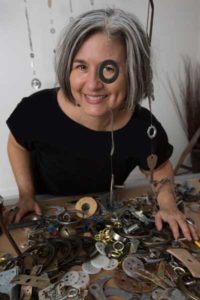 In 2013 Elayna Toby was commissioned to create an interactive multi-sensory installation at Palm Beach State College's Eissey Campus Art Gallery.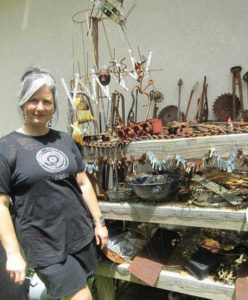 Commissioned by Boynton Beach Art in Public Places, Elayna Toby's kinetic interactive workshops and temporary public art installations "Kinetic-Connection" in 2015 and "Kinetic Intentions" in 2017 received First Place People's Choice Award at the International Kinetic Art Exhibit & Symposium which showcase outdoor kinetic sculptures by artists from around the world.
Additionally, Ms. Singer's moving sculptures have been exhibited at Art Palm Beach, the American International Fine Art Fair, Red Cross Designer Show Houses, Art BocaRaton, Midtown Commerce Center in Ft. Lauderdale, and more.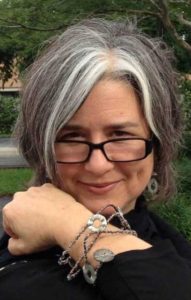 Elayna Toby Singer's kinetic artworks have been featured on CBSTV12, WPTV 5 and BobVila.com and in Traditional Home, Boca Magazine, Palm Beach Post, Florida Weekly, Sun Sentinel, Palm Beach ArtsPaper and the Palm Beach Daily News.
In CODAmagazine which highlights collaborative design + art projects all over the world, Ms. Singer's "Kinetic-Connections" was selected from more than 100 international entries as one of the top 25 Motion and Mobility artworks.
Arti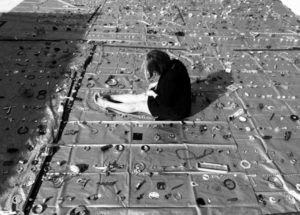 st Elayna Toby Singer knows that movement is life and life is movement. Her multi-sensory one-of-a-kind kinetic sculptures, site specific temporary installations and jewelry creatively re-imagine and re-purpose ordinary objects into art.
All Elayna Toby pieces are an edition of one. No two creations are ever the same.
Elayna Toby lives with her wife Connacht Cash in Palm Springs, Florida .