I LOVE COMMISSIONS and SPECIAL ORDERS!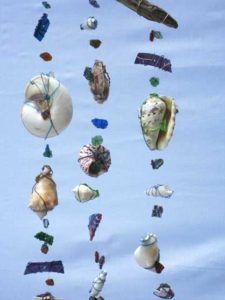 While all Elayna Toby Art is one-of-a-kind, commissioned works and special orders take "unique" and "original" to a whole new level! It's all about you, your style, your environment, or the particular personality and aesthetic of the person you're seeking to gift special something.
I'm honored to create a composition that brings your special idea to life. Or, we can brainstorm together to elucidate your vision. My treasure trove of extraordinary objects and beads await transformation to bring your inspiration and stories to life. I also love working with a client's sentimental objects and personal mementos to design jewelry and sculptures which highlight the special meanings and aesthetics of your keepsakes.
If a kinetic sculpture is what you wish, and you have a specific location in your home, garden or office in mind, I welcome the chance to see photos of the space in which you'd like the piece to hang. As I become familiar with the spatial parameters, colors and textures of the environment, the design comes to life.
Simply email me to get the conversation started…